Taking UX Design Principles Offline
January 31, 2018
User experience (UX) design is more than a buzz word, trend or job title. It's a guiding philosophy.
We aren't exaggerating to say it's interwoven into processes creating everything we see and touch.
It's something we think about every day (second only to coffee). UX design is common lingo in the digital world. When we create websites for our clients, we're constantly thinking of the end user whether we're building pages, writing content or choosing feature images. But user experience expands far beyond the digital world. It's the driving force behind basic design hierarchy, street signage, infographics, books, brochures, urban planning — any product with the human experience in mind.
Last year, Emspace took these same principles and frame of mind to embark on a not-so-average user experience challenge: a parking garage.

An Alternate Route to Parking
A communications agency may not be the first place that pops in your head when it comes to parking facility improvements, but because of a long-standing relationship with Emspace and our experience working with Park Omaha, Methodist Hospital knew they could count on us to take a critical eye to their current situation and offer creative solutions.
The need for parking garage improvements actually originated from a bigger initiative to enhance all aspects of the visitor and patient experience at Methodist. For safety and traffic flow reasons, the main garage entrance recently became "enter only," and the main hospital entrance changed from the first level to the second. Hence creating a problem — patients and visitors weren't using the walking bridges that lead straight to the hospital lobby.
With that in mind, our team began this project where all great UX design processes start: by conducting research. We reviewed a traffic assessment report, performed multiple on-site drive- and walk-throughs, and met with Methodist employees to hear their perspective about the situation.

More Than Signage
Methodist originally requested updated signage, graphics and highlighted floor levels. However, after our research, we realized the root of the parking garage's challenge to be, first and foremost, in the facility's traffic flow. Our goal was to improve the safety and experience for Methodists employees, visitors and patients, so we revisited the traffic plan and envisioned a flow that contained no intersecting traffic — always directing the user to the elevators with access to the second floor walking bridges.
The new traffic flow was not only much safer for users, but it made the design and placement of signage much easier, more cost-efficient and consistent throughout the entire garage.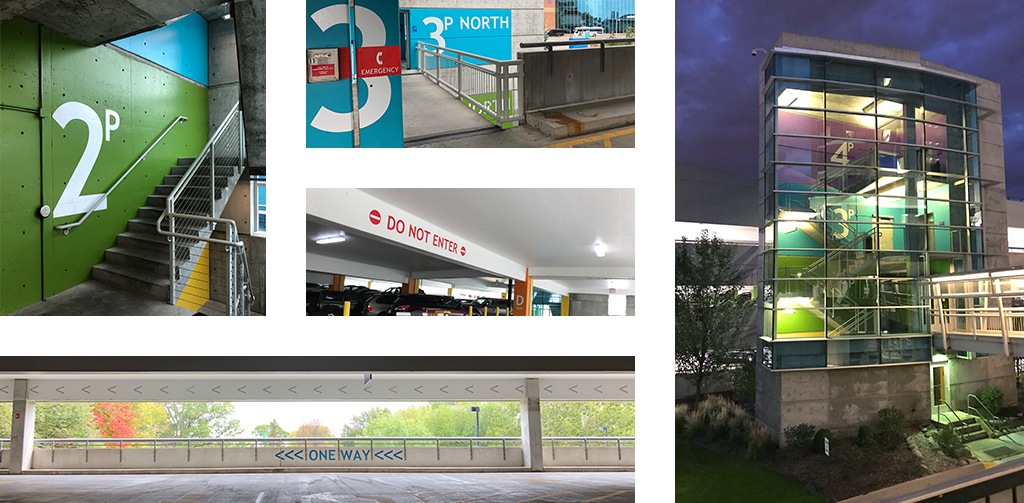 Communicate About Communication
With a new traffic flow proposed and approved, the team shifted focus to concept environmental graphics for the parking floors, columns and stairwells. We used bold, energetic colors and large numbers to clearly distinguish each floor from another while reinforcing Methodist's brand. A pedestrian lane was proposed to guide visitors to stairwells safely.
Since completing the work in summer 2017, Methodist's employees, visitors and patients have noticed a significant improvement in the traffic flow for both cars and pedestrians.
Emspace credits this success to the upfront investment of time in research, thoughtful decision making and proven processes that transcend any industry. The secret ingredient to it all? Designing the garage with the user as a top priority.
UX design wasn't a step in the process — it was the process.