Sit & Stay: Why We Love Being a Dog-Friendly Office
November 27, 2018
Meet Mabel.
She doesn't know much about design, content or technology. She's not even good at making coffee. But she makes Emspace + Lovgren a better place to work, no question.
Mabel is our Senior Morale Officer, and she happens to be a dog. We have a long history of having dogs in the office, and here's why:
It's just happier.

Dogs make us smile.

Stress relief.

Petting a dog instantly lowers your blood pressure

. You can usually find Mabel meandering around the office, looking for people who need to pet her.

Built-in security system. Mabel is our greeter and protector. She also keeps tabs on the squirrels outside.

Highly-encouraged breaks. Mabel likes nothing more than a Frisbee break outside, and she's pretty persuasive. Taking

a quick break from work can make you even more productive

when you come back.

Peace of mind. Lynn Schneider, Emspace + Lovgren's Creative Strategist and Mabel's person, doesn't have to worry about Mabel when she brings her to work. And the rest of us don't, either!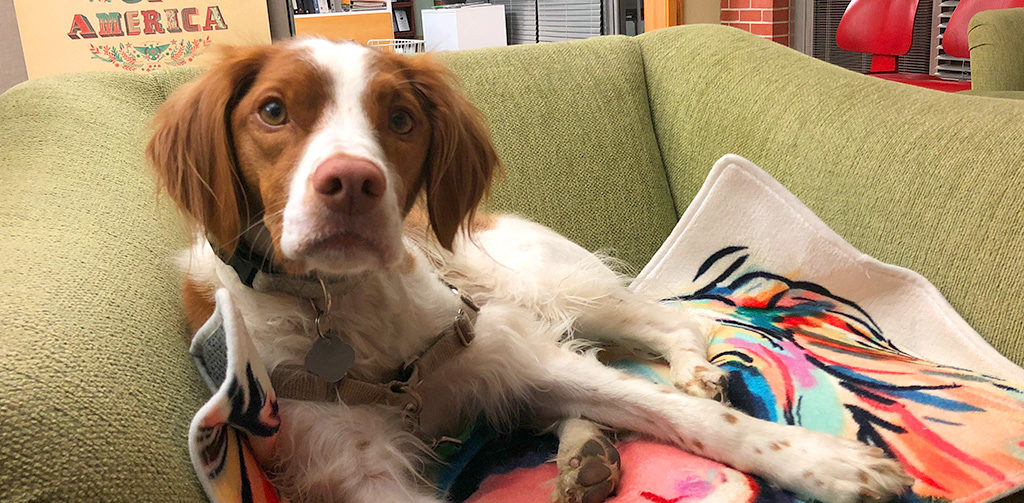 Lynn has been bringing Mabel, a Brittany, to Emspace + Lovgren since she was a puppy. And even though Emspace has welcomed dogs since our doors opened, Lynn had Mabel formally apply with a cover letter, resume and references once she was full-grown. Mabel referenced a Journal of Experimental Psychology study that found going on a walk can boost creative energy as much as 60 percent compared with sitting.
"I would be tail-wag'n happy to facilitate walks daily," Mabel said in her cover letter. The only compensation she requested was belly rubs.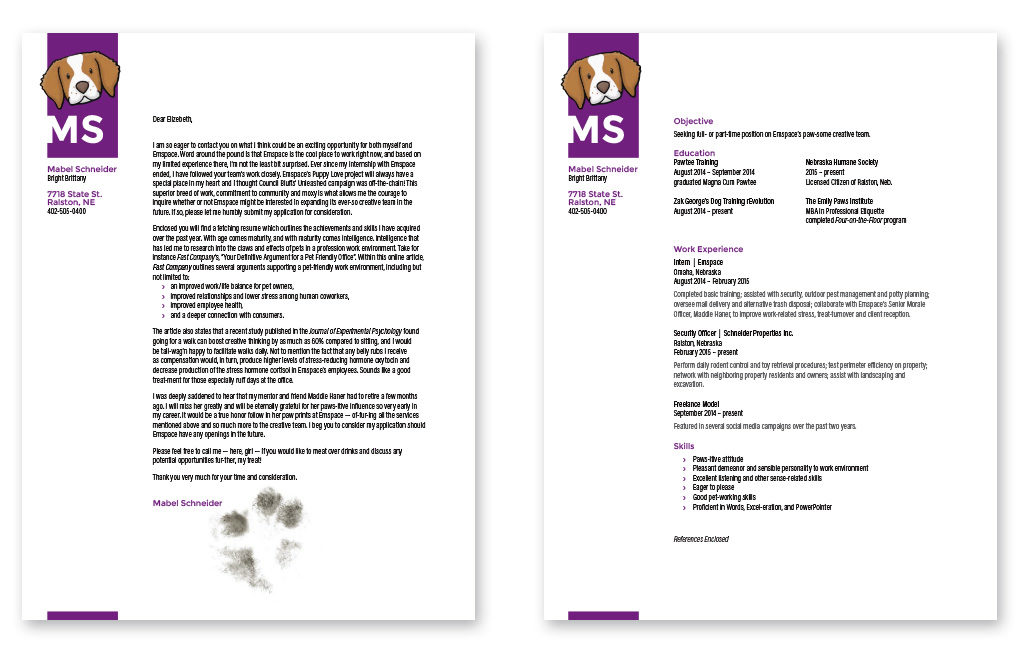 Even though the cost is next to nothing for most small businesses to welcome dogs into the workplace, just seven percent of companies allow pets at work, but it's a growing trend. Five years ago, it was just five percent.
It's no wonder: the PAWrometer™ shows that 88 percent of employees surveyed reported an increase in morale with pets in the office, and 86 percent reported reduced stress. Dogs can even lower your cholesterol.
If you think about it (and we have), dogs are actually pretty good at strategy (something we're always trying to perfect at Emspace). They know what they want and they go after it. They know the value of relationships and they stick up for their people. They know when to rest and recharge…but they always have energy to play.
So the next time you visit us, don't forget your Frisbee!