Maximizing Your Conference Experience
December 1, 2016
Blogs. Podcasts. YouTube videos. With so many great ways to learn and hone your skills on the cheap, why bother attending an in-person conference when you could be spending your precious weekend doing more important things — like sleeping.
As the two youngest members of the Emspace team, we're quite familiar with the learning curve between graduating college and entering the professional world of agency life. Along the way, we've discovered the value of investing our time to build our skill sets, including attending conferences that fall slightly outside our specialties in graphic design and public relations.
Take WordCamp for example: even at a conference geared toward web developers and all things WordPress, we found valuable ways to benefit from the experience.
1. Walk in with a clean slate.
One of the best parts of attending a conference outside of your area of expertise is that you are almost guaranteed to learn something new. This mindset is helpful to apply to any conference. By leaving your preconceived notions at the door, you'll find yourself catching new pieces of advice from a fresh perspective. Conferences allow you to get a good sense of what's going on in your industry that you might not be aware of if you're stuck in an office cubicle. Often, you'll walk away with skills and best practices you never expected to learn from a session, especially when the speaker opens the floor for questions.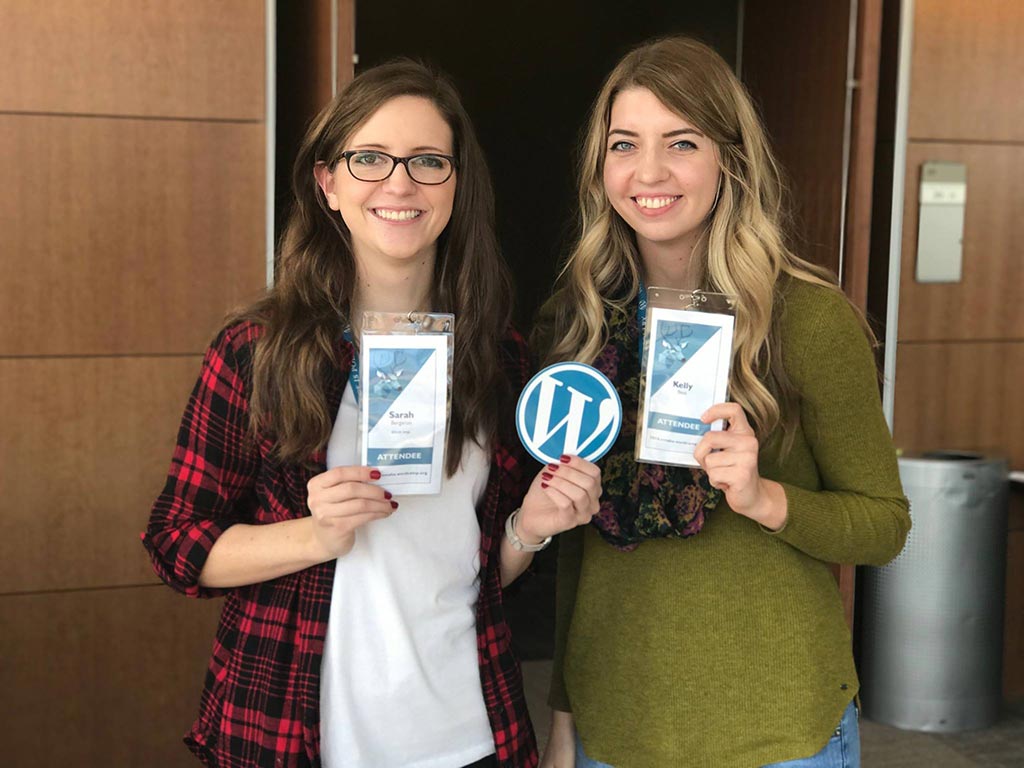 2. Network with intention.
Time is a precious commodity in any industry, and you should be strategic in the way you choose which conferences to attend and how to network. Conferences give you the opportunity to talk to people one-on-one about what they are working on, and other attendees may even offer you advice on how to develop your own projects. You also have the opportunity to ask presenters questions about their work and the rationale behind it, which you can't do by simply reading online articles!
Do your research before the day of the conference and find out everything you can about the presenters. By identifying key attendees, you can make a diligent effort to cross paths with the professionals who could be most valuable to network with.
Lunch breaks offer another great opportunity to talk with like-minded individuals who work outside of your discipline. Take advantage of the chance to meet and combine networks with people who are working to achieve the same goals in your industry.
3. Don't limit yourself to one track.
Challenge yourself to explore new ideas and strategies — don't miss out by sticking with just one track of sessions. Many conference sessions are multidisciplinary in hopes of drawing a diverse audience to every session. You are likely to learn something that will help you in your work at any session you attend, even those that are listed outside your area of expertise. When you go to a conference, chances are the attendees are united by a single broad topic, but with many different interests. Breaking out of your comfort zone to learn about a different area of your field can spark new ways to approach your work and develop your skill set. 
4. Reflect on your takeaways.
What's the point of attending a conference if you aren't learning and growing from it? Anyone can walk away inspired, but don't settle back into your same old routine the next day if it's not working. Set aside some time to review your notes and any highlights from the conference. Then, take your fresh ideas back to the team to discuss all the ways you can improve your internal process and workflow, while staying up-to-date on the latest industry trends for your clients. Your co-workers (and boss) will value your insight and suggestions on any new tools and ideas that could make their lives easier. Whether it's through a quick staff meeting, blog post or email, be sure to share your juicy information with the world and don't let it go to waste!