Forge's path to "making change" in Omaha
March 3, 2020
At this year's YP Summit, the Greater Omaha Chamber Young Professionals is honoring Lynn Schneider, E+L creative strategist and founder of our long-running Forge program. We are thrilled that Forge has captured the attention of several organizations in its eighth year, including the Midlands Business Journal, Nebraska PRSA and, now, the Greater Omaha Chamber. While we've shared many stories of our students over the years, one story is well overdue.
In the beginning …
Written by Forge founder and new YP Summit Change Maker, Lynn Schneider.
I came to Omaha after receiving my MFA at SCAD in Savannah, GA, but I'm a true small-town Nebraska native — "boomerang talent" as the Chamber YPs call us. Along with my advanced degree in graphic design, I attribute the establishment of my career in Omaha's competitive communications industry to the connections I made with local creative professionals before graduate school.
I met Elizebeth Murphy, President of Emspace + Lovgren, by sheer luck in 2008. After college, I was searching for job opportunities in Omaha and Lincoln. Elizebeth responded to my unorthodox cold-contact letter, sent as a Hail Mary effort before retreating to graduate school. Although Emspace wasn't hiring, Elizebeth offered to meet with me and offer advice. Shortly after receiving my degree, I reached out once again, having forged a connection from our initial meeting. That connection started my career at Emspace as an intern, and I'm happy to be here nine years later as a creative strategist.
My path at Emspace inspired me to think of how I could create connections for students experiencing similar challenges while starting their careers. I envisioned a way that Emspace could provide opportunities for them to learn more about the communications industry, following the collaborative approach that Emspace has adopted over the last decade.
To be a professional in the creative communications field you have to wear many hats, learn a diverse set of skills and have working knowledge of other professions. Most of this information was not shared in any classroom, department or program.
In 2011, I pitched the idea of Forge to Elizebeth. My proposal detailed a simple, session-based program that would invite area college students from multiple disciplines into Emspace's offices to get a glimpse of the professional world. The program would be time- and cost-effective,  benefitting Emspace as well as participating students. My business objectives for creating this program included, but were not limited to: early access to emerging talent in Omaha, strengthened connections with area institutions and universities and an elevated intern experience unlike any other. Guest speakers for the sessions would also foster a more collaborative, less competitive relationship between similar local agencies. The idea was welcomed with open arms, and after a few months, Forge accepted its first applications.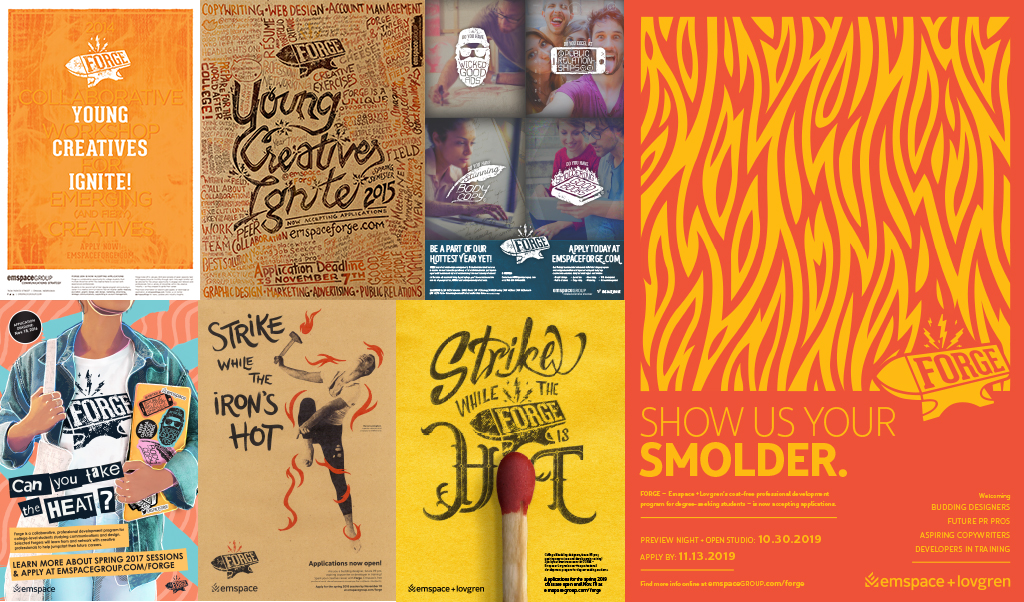 Evolution
The program has evolved over the past eight years in many ways. Guest speakers have expanded into professional panels. Topics that were once discipline-based are now formatted around Emspace's full creative process. Regardless of change, at its core, Forge helps students gain a better understanding of the communications field and connect with its seasoned professionals. With the help of more than 100 local creatives over the last 8 years, Forge has provided 77 students with valuable and personal industry insights. 
Our team effort has revealed a deeper impact behind our work. Students' job searches are greatly influenced by the opportunities that are personally shared with them — and not found on a job board. While Omaha has 10 colleges and universities within its 60-mile footprint, it may not have enough talent staying to support our future economic workforce.
Forge successfully connects with young talent before they're able to forge their own path, before they potentially leave the area, before they're given the (perhaps empty?) promise of more opportunity elsewhere. It's simple solution: make connections, provide insights and break down the barrier between existing and prospective professionals.
"Job shadows are useful and office tours are easy, but it takes time to develop a real connection."
Since its inception, Forge has exposed many Omaha opportunities for young professionals seeking to enter the creative communications field. Emspace alone has hired or offered freelanced work to many Forge graduates, and several friends of Emspace have tapped into this network of budding talent over the years. The impact of Forge is still growing as we discover new benefits in stronger, cross-industry relationships, new work with clients who were once Forge participants and an overall elevated status in the creative community.

Thinking Ahead
We believe that developing meaningful connections through Forge has been incredibly beneficial to its students, Emspace and our workforce. As of 2018, more than 80% of Forge's graduates were living or working within the region. 
Recently, I've started to wonder how Forge might grow — perhaps replicating the program regionally or, to Omaha's direct benefit, expanding to other local sectors with an adapted formula. 
"Forge's future is yet to be determined, but one thing is for sure, we're not done yet."