Field Newts: Career Day
June 15, 2016
It's not every day that I get to stand in front of a room full of young designers and tell them how cool my job is. So when the CB Rotary's 5th Grade Career Fair rolls around every year, I relish it. This was my second time presenting at the fair about a Graphic Designer career.
With a similar presentation as I used last year, the kids were still gravely disappointed that graphic designers aren't the same a video game designers. But I consoled them the best I could. In the grand picture, my presentation is not as cool as others. They don't get to drive robots around, bandage faux-broken limbs, or style an outrageous hair quaff. But I do tell them something that just might change their life. And it's something that they most likely get in trouble for all the time in school. The real takeaway from my representation is simple… doodle!
Yes, that's right. Doodle. Doodle in class. Doodle for fun. Doodle. But perhaps the more important part of the lesson as it pertains to graphic design is the rule: "Doodle Responsibly".
But I'm getting ahead of myself. Let me tell you about my whole day in the best possible way.
The day started differently from my usual work day. I was early.

Like really early. So early I had time to drive across town for some coffee.

I was totally prepared. Sort of.

There was a slight difference between the morning and afternoon sessions of students.

But I shared my message fiercely.

The key was to introduce the idea of thinking and communicating visually. Don't take notes — take "Newts".

Don't write the capital of Nebraska is Lincoln — Doodle it! And then add to it with new information you're learning. Before you know it, you've got an infographic.

But, AGAIN, if you don't "Doodle Responsibly", doodling will be distracting.

So, don't doodle a dragon in class where you are learning about the celebration of Cinco de Mayo. Instead, doodle a Cinco de Mayo fiesta, where a dragon is celebrating.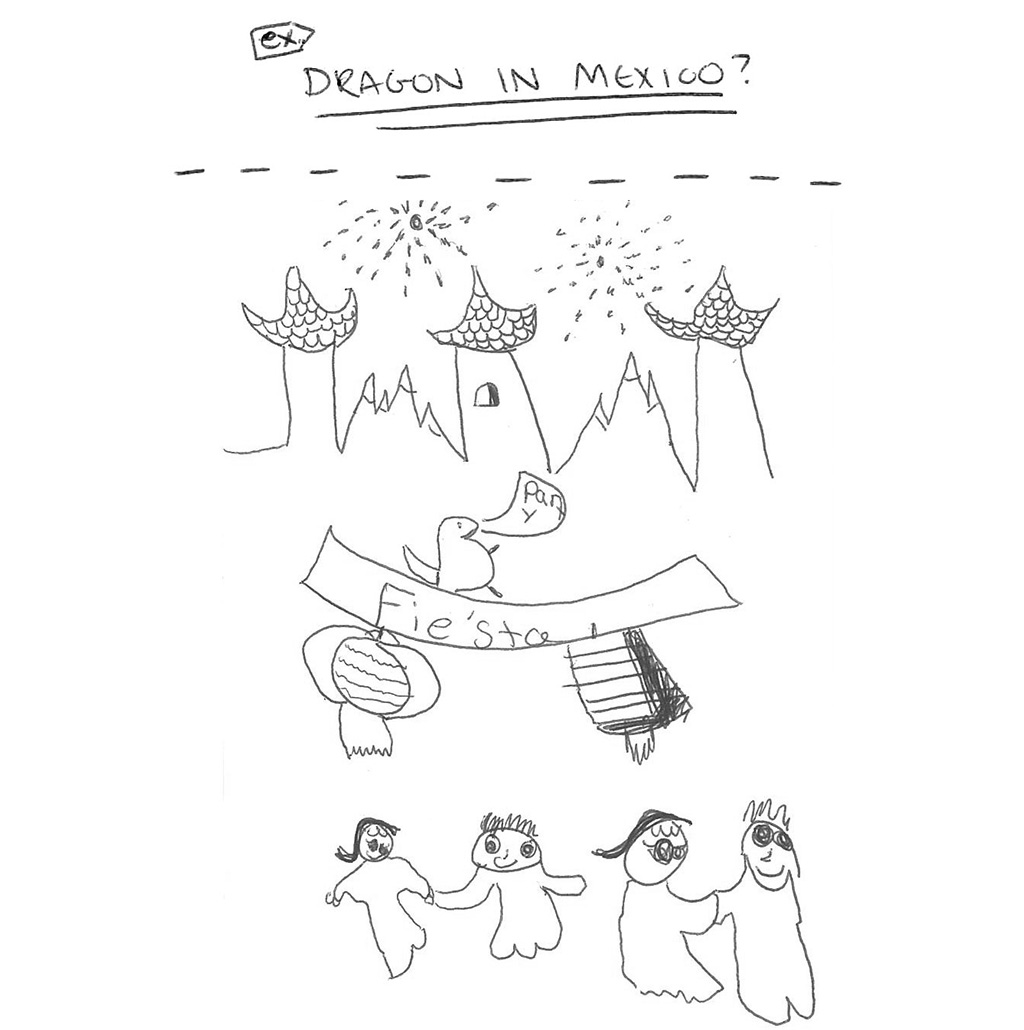 Seriously, is any teacher going to claim this kid isn't paying attention to the lesson?
But the highlight of the day was not the great surveys I received…

It came in my last session of the day when I asked, "What is a graphic designer?" And an adorable kid answered…

Awww!
Now, not every kid took my advice on responsible doodling.
I'm sure many still want to be video game designers or doodle dragons just for the fun of it.

The artist in me says that's awesome too.
Like really awesome.